About Ed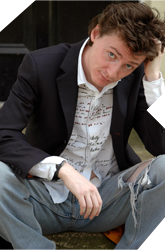 Ed's standup career began during his college years at Strathclyde University, Glasgow.
As student welfare officer he was often called on to MC events in the university and soon was being invited to perform at other third-level institutions around Scotland. It wasn't long before he'd quit his studies completely and started up a small comedy club in Glasgow. From there he moved to London, where he started all over again with open spots and short sets on the club circuit, honing his material and developing the curmudgeonly and nerdy persona we've all come to know.
During his twenty years in comedy, Ed has enjoyed huge critical and popular success in the UK and Ireland. He has performed hit tours, sold out many runs at the Edinburgh Fringe, had a successful two-week run in the West End and appeared on radio, television, the stage and the big screen. Highlights of his live work here include:
*

Sell-out appearances at Dublin's Gaiety and Olympia theatres

*

A Perrier Award nomination for A Night at the Opera, 1998

*

Two weeks at the New Ambassadors in London's West End

*

Playing the lead in Brian McAvera's King of the Road in Edinburgh, Greenwich, Dublin, and Winchester

*

Being the biggest selling comedy show of the year at the 2006 Edinburgh Fringe with Standing Up and Falling Down

*

Recording his three DVDs: Pedantic and Whimsical (2006), Different Class (2009), and Crowd Pleaser (2011)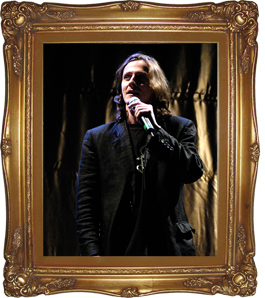 Ed has also developed a huge overseas following and has performed to capacity audiences in Australia (where he shook hands with David Bowie backstage at a television show), New Zealand (where he was briefly a media sensation because of an argument with a barman), Singapore, Belgium, Bermuda, Norway, Austria, Switzerland and more.
In Canada, Ed has made several appearances at the prestigious Just for Laughs festival in Montreal, even hosting a gala in 2006 and touring with Just for Laughs in 2008.
In the US he has performed at the US Comedy Arts Festival in Aspen and in top comedy clubs in New York and LA, as well as making five appearances on NBC's Late Night With Conan O'Brien.
In the UK and Ireland, Ed has become a regular fixture on television and radio. He has appeared on or presented a range of shows on BBC radio, including The Unbelievable Truth and What's So Funny. He is also a regular panellist on shows like Mock the Week and Have I Got News for You, and has made several memorable appearances on the Graham Norton Show.
Ed's Highlights
Ed would say his
television highlights

were:
Doing a walk-and-talk with Martin Sheen on The Graham Norton Show
Winning All-Star Family Fortunes
Hosting four seasons of Ed Byrne's Just for Laughs on RTE
Sledding down the side of a volcano for Dara and Ed's Great Big Adventure
Being part of the ensemble cast of Reunited for the BBC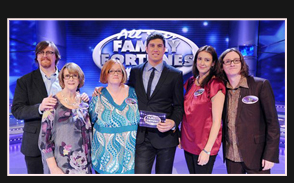 Other people, however, would tell you he was best known for...
ITV's Christmas panto, Aladdin, an integral part of Christmas for some
Eight years as the voiceover on the Carphone Warehouse ads
His breakthrough role as "teenager" on the Father Ted Christmas special. A Christmassy Ted
Getting a pie in the face from Robert Downey Jr. on The Graham Norton Show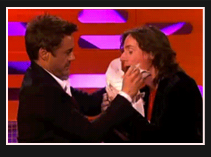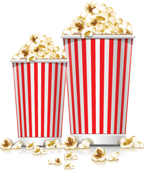 Recently, Ed has been involved in more factual television work. He travelled to Central America to co-host the adventurous travel show
Dara and Ed's Great Big Adventure with Dara Ó Briain and drove across Siberia with Andy Parsons for an episode of World's Most
Dangerous Roads. He has also done pieces for Countryfile and The One Show, and has appeared on programmes like Science
Club and Volcano Live.
Ed has also been in several films, including Round Ireland With A Fridge, Rat, Are You Ready For Love and Zemanovaload.
Ed lives in Essex with his wife, two children and their cat.
Here are a couple of articles where Ed talks about his life and career to date: Sunday Independent | The Telegraph