Outdoors Ed
Sometimes even comedians need to have a stomp about in the outdoors and Ed has chosen to stomp about up hills. Not only
is he a Munro Bagger (74 and counting) he is also a keen skier and a regular correspondent for The Great Outdoors magazine.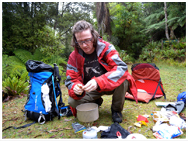 Click the images to view larger.