Jul.03, 2012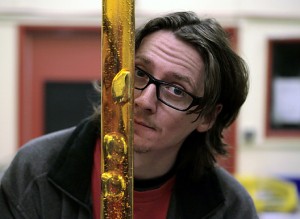 Here at Ed Byrne headquarters, we're not really sure whose bright idea it was to let Ed loose in a lab at Bristol University for Volcano Live. And yet, next week you'll be able to see him recreating the processes behind volcanoes under the close (very close, we hope) observation and expert guidance of some of the world's leading volcanologists.
From the BBC website:
For Volcano Live, Ed discovers the principles behind volcanic phenomena. He deploys bottles of fizzy drinks, chewy mints, golden syrup, sugar, plastic balls and an oxyacetylene torch in a series of experiments. He explains why some volcanoes explode and others ooze, what a supervolcanic eruption would look like and how rock becomes liquid.
Obviously these people never heard about the time he cut off the top of his finger slicing carrots for his guinea pig.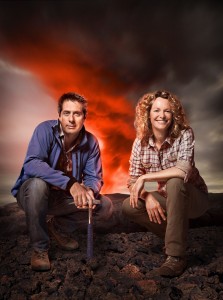 Perhaps more excitingly for non-Ed fans, the programme will feature live reports by Kate Humble and geologist Iain Stewart from Kilauea, the world's most active volcano, as well as reports from everyone's favourite ash-cloud generator, Iceland's Eyjafyallajokull and much, much more.
For all the broadcast details and extra materials, check out the BBC website.